At Berkeley Physics our culture is strengthened when we each take responsibility for the part we play in supporting the success of every member of our community, when we engage in bettering ourselves alongside one another, and when we pursue dialogue and transparency. The We are Berkeley Campaign was started in 2020 to pursue these goals. The campaign has encompassed a year-long process to develop Community Principles for our department, and has supported a series of workshops where our community can come together to think deeply about ways to diversify STEM, and physics especially.
The Physics Department Community Principles:
UC Berkeley has a set of Community Principles that were developed by students, faculty, staff and alumni to affirm and guide personal and collective behavior for the campus community. A process was started during the Physics First Friday workshop in November 2020 to create a set of unique principles for the Physics Department, a set of agreements rooted in our own community values, beliefs and interests. A set of draft principles were drawn up and were evaluated and edited by community members through retreats, town halls, focus groups and surveys during the 2020-2021 academic year. The principles changed as feedback was collected and changes were integrated.
These principles are not a reflection on scientific ethics, reproducibility, honesty, objectivity, impartiality and freedom of thought. They are a series of aspirational statements reflecting the type of culture and work/study environment we wish to build and sustain. They describe the cultural norms to which we wish to subscribe, and describe the behaviors that contribute to Berkeley Physics remaining a respectful and welcoming space.
The Physics Department Community Principles Handbook
This Handbook was compiled by a group of Physics Staff, a subgroup of Physics Staff for Action on Racial Justice. The Handbook is offered in five chapters, one chapter for each of the five principles. You are invited to browse it or to refer to it as needed when you encounter challenges in implementing the Physics Department Community Principles. This Handbook is a work in progress and we invite you to let us hear your suggestions, questions, concerns, and ideas for improving it and making it more useful.
Download a Community Principles poster by clicking on the thumbnail below.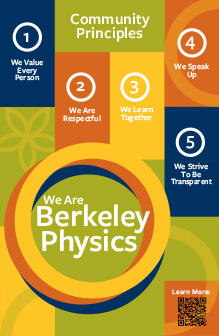 Upcoming Events
First Fridays
First Friday Anti-Racism Workshops were launched in October 2020 as a forum to bring together the entire physics community in dialogue about our role as a community in dismantling racism in STEM. 
The goals of each First Friday are:
An actionable framework
A thematic concept to improve your racial literacy
Some takeaway or tool to use in your life and at work
Each First Friday Anti-Racism Workshop has a theme. Reading/self study is sent in advance and attendees come prepared to discuss the materials in breakout groups. 
First Friday Workshop in 23-24 will be October 6th
For our first First Friday workshop of the academic year, scheduled for Friday, October 6th, 2023, we will once again be joining the Lawrence Berkeley National Laboratory First Friday Equity Reset program. Their program, like ours, is the first Friday of each month, with a morning and afternoon session. The October workshop topic will be: Racism and Redlining
Friday, October 6th, 2023
Morning Workshop: 10:00am - 12:00pm, OR
Afternoon Workshop: 2:00pm - 4:00pm
PLEASE NOTE: All workshops are hosted on Zoom. Morning and afternoon workshops are identical. Registrants can sign up for either workshop.
Sign up for one of the October 6th workshops with this webform and it will be added to your calendar by the LBNL Equity Reset team. Please RSVP directly in your calendar. https://forms.gle/RiJeu48UdPGBK9sF7
After signing up, you will begin to receive communications from the First Friday/Equity Reset team at LBNL who are doing the heavy lifting with organizing this workshop for us. You will also receive access to FIRST FRIDAY EVENT PAGE, where the Zoom address for your workshop will be provided. You can look forward to LNBL affiliates joining Berkeley Physics for this workshop.