On the first Thursday after the start of classes each semester, the Physics Department hosts an undergraduate research fair on a virtual collaboration/meeting platform called Gather. The Virtual Physics Undergraduate Research Fair is organized by student leaders in the department with support from department staff.
This fair is targeted at undergraduates from all years looking to join a physics research group or who might be just looking to learn more about physics research generally.  Students who have never done research are particularly encouraged to attend. At the fair, there will be a room to ask students questions as well. 
The gather.town platform can be run through a browser and will provide a way to replicate interaction and conversations of an on-campus event virtually.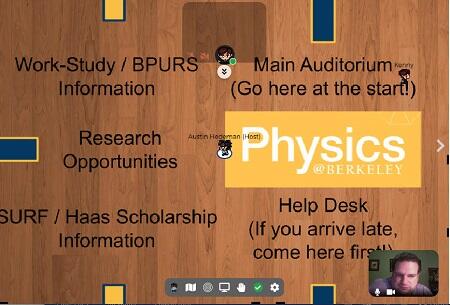 Physics faculty will share about their research and available research positions (if applicable), and then students will have the chance to visit virtual office hours. After the event, students can apply to available research positions via URAP and/or GoogleForm application that will be sent to all research fair participants.
If you are not familiar with the gather.town platform, watch this instructional video about how to use gather.town, what to expect, and how to best navigate the fair. The gather.town platform changes each year so don't expect the layout to be exactly as this video shows, but you can expect the following:

When you enter Gather, you can use the arrow keys to move around.  When your avatar nears another user's avatar, a video screen with their audio and video will pop up at the top.  You can control how close someone needs to be to interact with you using the "bullseye" icon on the bottom of the screen.

The "Research Opportunities" and "Student Experience" rooms are the main rooms you will be exploring.

If you need help, you can find someone at the Help Desk
Stay tuned in early August and in December/January each year for information on how to attend the next Virtual Physics Undergraduate Research Fair!