Fall 2023 Undergrad Physics Research Fair took place on Thursday, August 24, 2023, 4:00pm - 6:00pm PDT
A full list of our research group participants and the number of positions they have available can be found here: 
https://docs.google.com/spreadsheets/d/155M7Y9QImqJXyw3XUf_VtG6hzalQLEB7LvcTvbXr58s/edit?usp=sharing
View the Fall 2023 Fair Program here: https://docs.google.com/document/d/1_I33FYZIuAYlH02E0oQbl6Y_DARNCXbFNHV8JcwdzyY/edit?usp=sharing
The fair recording will be available shortly
***
The Spring 2023 Undergraduate Research Fair took place on Thursday, January 19th, 2023.
Here is a recording of the first half-hour portion of the SP23 fair where we presented tips and reminders for undergraduates seeking experience in research. The URAP website is the other structured means by which you can learn about formal physics research opportunities available. If you were unable to attend the fair and/or if you do not obtain a position this semester, we recommend that you:
---
More about our physics research fairs:
On the first Thursday after the start of classes each semester, the Physics Department has been hosting an undergraduate research fair. The Virtual Physics Undergraduate Research Fair is organized by student leaders in the department with support from department staff.
This fair is targeted at undergraduates from all years looking to join a physics research group or who might be just looking to learn more about physics research generally.  Students who have never done research are particularly encouraged to attend. At the fair, there will be a Zoom room where attendees can ask students questions about their research experiences.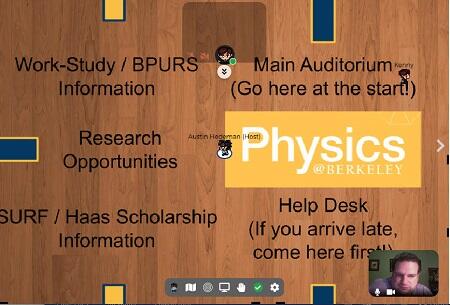 The fair starts with a presentation about resources available to help students learn  more about research. After the conclusion of the presentation, attendees will be invited to join the Zoom rooms set up by each lab that is present. Some, but not all, Physics faculty attend, and share about their research and available research positions (if applicable).  In some cases, faculty may offer in-person lab tours or office hours so  students can follow up with them. After the event, students can apply to available research positions via URAP and/or GoogleForm application that will be sent to all research fair participants.
Stay tuned in early August and in December/January each year for information on how to attend the next Virtual Physics Undergraduate Research Fair!