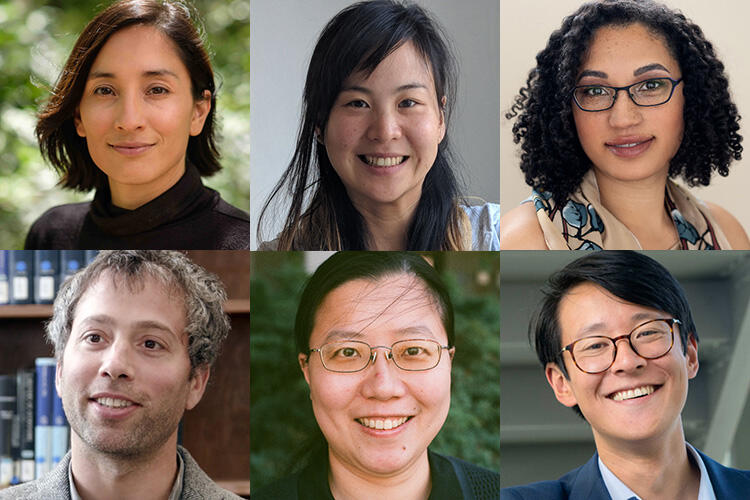 Six young UC Berkeley faculty members have been selected to receive a 2023 Sloan Research Fellowship, the largest number of fellows this year from any one public university.
The fellowships honor extraordinary U.S. and Canadian researchers whose creativity, innovation and research accomplishments make them stand out as the next generation of leaders.
Including this year's winners, 297 faculty members from Berkeley have received Sloan Research Fellowships since they were first awarded in 1955.
The new Berkeley fellows are:
(Left to Right)
Andrea Gomez, assistant professor of molecular and cell biology and a member of the Helen Wills Neuroscience Institute. The Gomez Lab uses molecular biology, electrophysiology and functional imaging to decode the cues that organize neural networks. The researchers hope to discover how dysfunction at the synapse manifests in conditions like autism, intellectual disability and neurodegeneration.
Angjoo Kanazawa, assistant professor of electrical engineering and computer sciences, whose main interest is 3D digitization of people, animals and their environment from everyday photos and videos using a mix of computer vision, graphics and machine learning.
Samantha Lewis, assistant professor of nutritional sciences and toxicology. Lewis uses quantitative imaging, genetics and systems biology approaches to study mitochondrial DNA in order to understand how mtDNA copy number is regulated within and across cell cycles, and how the disruption of these pathways impinges on mtDNA integrity, cellular metabolism and ultimately human health.
Benjamin Safdi, assistant professor of physics, who investigates the microscopic nature of dark matter using novel laboratory experiments and astrophysical probes. He aims to discover some of the most likely dark matter candidates, such as axion dark matter.
Yunqing Tang, assistant professor of mathematics, who focuses on arithmetic geometry and number theory within the field of algebra.
Guo Xu, assistant professor in the Haas School of Business. Xu work at the intersection of political economy, economic history and development, with a focus on the selection, recruitment and allocation of talent in private and public sector organizations.
Sloan fellowship candidates must be nominated by their fellow scientists, and winners are selected by independent panels of senior scholars on the basis of a candidate's research accomplishments, creativity and potential to become a leader in their field. Winners each receive a two-year, $75,000 fellowship that can be used flexibly to advance their research.
"Each in its own way, the nominating institutions are also helping to identify and support these flourishing young researchers," says Daniel Goroff, director of the Sloan Research Fellowship Program. "We're honored to join them in recognizing tomorrow's scientific leaders."